While the world of streaming has opened up a vast amount of possibilities in terms of viewing options, it can sometimes be overwhelming trying to decide exactly what to choose—especially when you have the entire family on the brain. That's why we've crafted a specially curated list of the best family movies on Netflix, which runs down the very best movie-watching options for all (or at least most) ages to enjoy. They range from animated features to uplifting live-action stories of real-life heroes.
But it's not only Disney movies—our list of the best family and kids movies on Netflix features films from all kinds of studios, all kinds of eras, and all kinds of genres. So if you're looking for the perfect viewing option that both kids and parents will enjoy, we're pretty confident you'll find something here. Check out our full list of the best family movies on Netflix below.
RELATED: The 85 Best Movies on Netflix Right Now
Nightbooks
Director: David Yarovesky
Writers: Mikki Daughtry and Tobias Iaconis
Cast: Krysten Ritter, Winslow Fegley, and Lidya Jewett
Looking for something genuinely spooky to watch this Halloween season that's also perfect for the whole family? Look no further than Nightbooks, a new witchy Netflix original from director David Yarovesky (Brightburn) and producer Sam Raimi (The Evil Dead). Alex (Winslow Fegley) is teased so much for his love of writing horror stories he swears never to pen another tale again. But when a witch (Krysten Ritter) traps Alex in her New York City apartment and demands he spin her a new yarn every night, the creative kid has to use every ounce of his storytelling talent to make sure he and fellow prisoner Yasmin (Lidya Jewett) make it out alive. Nighbooks occupies a vital space in the horror genre—one similar to the likes of Goosebumps, A Nightmare Before Christmas, and Hocus Pocus—which is to say it's just scary enough to act as a gateway movie for any kid (like Alex!) who might be interested in the harder stuff down the road. –Vinnie Mancuso
Spy Kids
Writer/Director: Robert Rodriguez
Cast: Alexa Vega, Daryl Sabara, Antonio Banderas, Carla Gugino, Alan Cumming, Danny Trejo
Married super-spies Gregorio (Antonio Banderas) and Ingrid (Carla Gugino) raise their two children, Carmen (Alexa Vega) and Juni (Daryl Sabara), by day and travel the world taking down villains by night. But when the couple is captured by megalomaniacal children's show host Fegan Floop (Alan Cumming), it's up to the brother-sister duo to take on the super-spy mantle, assemble a whole host of gadgets, and rescue their parents…and the entire world. Robert Rodriguez, making his first successful leap to children's filmmaking after breaking out as one of the action genre's best, packs more imagination packed into single frames of Spy Kids than the majority of the last decade of kid's movies combined. It's a delightful, action-packed blast that you should only watch with your kids if you're okay with at minimum a month of them wanting to grow up and become spies.
The School of Rock
Director: Richard Linklater
Writer: Mike White
Cast: Jack Black, Joan Cusack, Mike White, and Sarah Silverman
One of Boyhood and Dazed and Confused filmmaker Richard Linklater's best films is fun for the whole family. 2003's The School of Rock is a pure feel-good film, as it stars Jack Black as a broke guitarist who was just kicked out of his band, who poses as his roommate in order to land a job substitute teaching at a prestigious prep school. When he learns his students are all musically inclined, he decides to use them to win Battle of the Bands as revenge against his old band. Black is wildly charismatic, Joan Cusack is a hoot, and the music is catchy as heck. – Adam Chitwood
Jumanji
Director: Joe Johnston
Writers: Jonathan Hensleigh, Greg Taylor, Jim Strain
Cast: Robin Williams, Kirsten Dunst, Bradley Pierce, Jonathan Hyde
This movie might have scared an entire generation away from board games, but there really is no better, more thrilling way to introduce a young movie lover to rousing Amblin-esque adventure than Jumanji. Directed by Joe Johnston (The Rocketeer), the film sees two young siblings, Judy (Kirsten Dunst) and Peter (Bradley Pierce), who unearth a mystical jungle-themed board game that not only brings all of its wildlife into the real world—some much deadlier than others—but also releases Alan Parrish (Robin Williams), a man who was trapped inside the game 26 years earlier. A lively, effects-driven thrill ride with Robin Williams at his most heartwarming at its center? You really can't ask for much more, and as an added bonus, both of its belated sequels, Jumanji: Welcome to the Jungle and Jumanji: The Next Level, both of which should not have worked, somehow worked extremely well! –Vinnie Mancuso
Enola Holmes
Director: Henry Bradbeer
Writer: Jack Thorne
Cast: Millie Bobby Brown, Henry Cavill, Helena Bonham Carter, Sam Claflin
Eliminate all the movies you've watched a hundred times before from your Netflix queue and whatever remains, no matter how improbable, is most likely Enola Holmes, a gem of a Netflix original that came and went in the pop culture conversation too fast. Based on the YA series of the same name, Enola Holmes sees Stranger Things star Millie Bobby Brown playing the title character, younger sister to history's most famous sleuth, Sherlock Holmes (Henry Cavill). But when the Holmes family matriarch, Eudoria (Helena Bonham Carter) goes missing, it's Enola on the case, tracking her mother's trail of secrets straight into a grand conspiracy. Brown is, no surprise, endlessly charming in the lead, the mystery plot is just challenging enough to keep the kids guessing, and Cavill is clearly having a blast playing the stuffy Sherlock figure. The mystery of What to Watch, solved. –Vinnie Mancuso
The Karate Kid
Director: John G. Avildsen
Writer: Robert Mark Kamen
Cast: Ralph Macchio, Pat Morita, Elisabeth Shue, Billy Babka, Martin Kove
The movie that sent an entire generation of youngsters straight to their local dojo to sign up for karate lessons. (Can confirm.) The Karate Kid is a quintessential 80s sports movie that hits especially hard for any kid who has ever felt out of place. Ralph Macchio stars as Daniel LaRusso, a New Jersey native who transfers to the sunny shores of California, struggling to find his place on the West coast until he meets gentle handyman Mr. Miyagi (Pat Morita). A Medal of Honor recipient in WWII, Miyagi teaches Daniel the martial arts skills needed to fend off the students of Cobra Kai, a bullish dojo led by the brutal John Kreese (Martin Kove). With heart, cheese, and montages to spare, The Karate Kid still packs a punch all these decades later, all bolstered by the genuinely fantastic supporting turn from Morita, which earned him an Oscar nomination. –Vinnie Mancuso
Puss in Boots
Director: Chris Miller
Writer: Tom Wheeler
Cast: Antonio Banderas, Salma Hayek, Zach Galifianakis, Billy Bob Thornton, and Amy Sedaris
The 2011 film Puss in Boots is a spinoff of the Shrek franchise that does a solid job of expanding the fairy tale universe of the Shrek movies while also telling a contained, compelling story of its own. As the title suggests, the film follows Antonio Banderas' Puss in Boots, first introduced in Shrek 2 as a swashbuckling kitty cat. In his own movie, he squares off against murderous siblings Jack and Jill with trusty companions like Humpty Dumpty and Kitty Softpaws. Like the Shrek movies, the film puts a fun twist on well-known fairy tales, but it's Banderas' charisma and Galifianakis' silly Humpty Dumpty that really make this one sing. As an added bit of trivia, Guillermo del Toro served as an executive producer and creative advisor as the fil was being developed. – Adam Chitwood
Kung Fu Panda 2
Director: Jennifer Yuh Nelson
Writers: Jonathan Aibel and Glenn Berger
Cast: Jack Black, Angelina Jolie, Dustin Hoffman, Gary Oldman, Seth Rogen, Lucy Liu, David Cross, James Hong, Michelle Yeoh, Danny McBride, Dennis Haysbert, Jean-Clause Van Damme, Victor Garber, and Jackie Chan
The 2011 animated sequel Kung Fu Panda 2 is better—and funnier—than its predecessor. Now a fully fledged member of the Furious Five, panda Po (Jack Black) discovers a terrifying secret about his past all the while working with his team to defeat a shadowy new antagonist. The film is fairly grown-up in its thematic material as it tackles the subject of adoption with surprising nuance, but it's also still silly, colorful, and vivacious. This is a good one to watch with the kids. – Adam Chitwood
The Mitchells vs. the Machines
Director: Mike Rianda
Writers: Mike Rianda and Jeff Rowe
Cast: Abbi Jacobson, Danny McBride, Maya Rudolph, Mike Rianda, Olivia Colman, Fred Armisen, and Beck Bennett
The whole family will absolutely love The Mitchells vs. the Machines. The story of this original animated film follows a family in the wake of a robot apocalypse, just as they were about to embark on a cross-country road trip to take the daughter to college. They must work together if they have any hope of saving themselves (or the world), which is difficult because the father and daughter are having trouble communicating. This movie is silly and goofy but also emotional, with a rich heart at its center and a story of the importance of communication boosted by a female lead who is fiercely creative. It's also tremendously rewatchable. – Adam Chitwood
We Can Be Heroes
Director/Writer: Robert Rodriguez
Cast: YaYa Gosselin, Lyon Daniels, Andy Walken, Hala Finley, Lotus Blossom, Dylan Henry Lau, Andrew Diaz, Isiah Russel-Bailey, Akira Akbar, Nathan Blair, Vivien Blair, Pedro Pascal, Priyanka Chopra Jonas, Boyd Holbrook, Christian Slater
If you're looking for a sweet and silly sci-fi adventure that's fun for the whole family, Robert Rodriguez's We Can Be Heroes is a pretty delightful option. Set in the same universe as his beloved 2005 family superhero film The Adventures of Sharkboy and Lavagirl, his Netflix film brings all that bright and bubbly energy to a new generation of heroes. After Earth's legion of superheroes are captured by aliens, their children have to step up and save the day, each with their own distinct set of powers, from classic superhero abilities like controlling time to controlling objects by singing to a good old-fashioned knack for leadership. And lest we forget the scene-stealing Guppy, Sharkboy and Lavagirl's adorable young daughter who inherited Shark Strength and knows how to use it. It's a light-hearted, breezy fantasy/sci-fi adventure for kids that should land well with fans of Sharkboy and Lavagirl and Rodriguez's Spy Kids franchise. – Haleigh Foutch
The BFG
Director: Steven Spielberg
Writer: Melissa Mathison
Cast: Mark Rylance, Ruby Barnhill, Penelope Wilton, Jemaine Clement, Rebecca Hall, Rafe Spall, Bill Hader
For a Steven Spielberg-directed Disney movie, The BFG kind of flew under the radar, so if you missed it before, now's the perfect chance to catch up on the gorgeous family adventure. Adapting from Roald Dahl's beloved children's book, The BFG stars recent Spielberg favorite Mark Rylance as the eponymous Big Friendly Giant, who befriends a human girl (Ruby Barnhill). Together, they set out on an adventure to take down the bigger, more bloodthirsty giants from his world, who want to invade earth and feast on mankind. The BFG isn't top-tier Spielberg, but it's still Spielberg, which means it's definitely a top-tier family adventure, infused with the filmmaker's signature sense of wonder, and featuring some captivating motion-capture work from Rylance. And on the matter of animation and effects, The BFG is just downright stunning to behold. – Haleigh Foutch
Zathura: A Space Adventure
Director: Jon Favreau
Writers: David Koepp, John Kamps
Cast: Josh Hutcherson, Jonah Bobo, Dax Shepard, Kristen Stewart, Tim Robbins
It's not just Jumanji in space — though it's that, too. Zathura: A Space Adventure was made by director Jon Favreau in between his two biggest hits — Elf and Iron Man — and represents the best impulses from both of those films in one shining, accessible, emotional, fleet, and funny package. When a trio of dysfunctional siblings (Josh Hutcherson, Jonah Bobo, and Kristen Stewart) find a sci-fi themed board game to play while bored out of their minds, they do so semi-begrudgingly, unwittingly unleashing all matter of space adventures and terrors into their actual home. The resulting adventures feel appropriately Amblin-esque (especially when centering around a never-better Dax Shepard), combining thrills and heart inextricably. The film is a slept on, minor cult hit, never quite attaining the pop culture pull of its jungle-themed older sibling. Now that it's on Netflix, let's rectify that. – Gregory Lawrence
Rango
Director: Gore Verbinski
Writer: John Logan
Cast: Johnny Depp, Isla Fisher, Abigail Breslin, Alfred Molina, Bill Nighy, Ned Beatty, Harry Dean Stanton, Ray Winstone, and Timothy Olyphant
After brilliantly creating the original Pirates of the Caribbean trilogy, filmmaker Gore Verbinski decided to make an aniamted Western. The excellent (and Oscar-winning) Rango tells the story of a pet chameleon who gets lost and stumbles upon a down-on-its-luck Western town populated by other talking animals. He pretends to be a tough drifter, but is then roped into saving the town thanks to his tough demeanor. Hilarity ensues, and the whole film is conjured with some stunning visuals and Western-tinged cinematography (with a leg-up from the legendary Roger Deakins). – Adam Chitwood
Cloudy with a Chance of Meatballs
Directors/Writers: Phil Lord and Chris Miller
Cast: Bill Hader, Anna Faris, James Caan, Andy Samberg, Bruce Campbell, Mr. T, Benjamin Bratt, and Neil Patrick Harris
Before filmmakers Phil Lord and Chris Miller upended convention with wildly entertaining films like The LEGO Movie and the Jump Street films, they wrote and directed the 2009 animated feature Cloudy with a Chance of Meatballs—and it is delightful. The film is absolutely in the same vein of Lord and Miller's other films; a mix of goofy humor, gloriously intricate jokes, inventive visuals, and most importantly genuine compassion. Bill Hader voices a wannabe scientist named Flint who lives in a tiny town called Swallow Falls, which is thrown into peril when one of Flint's wild inventions starts turning water into food, at which point it literally starts raining all sorts of delicious—and gigantic—treats. It's a great film for all ages really, and a terrifically science-positive story. – Adam Chitwood
Cloudy with a Chance of Meatballs 2
Directors: Cody Cameron and Kris Pearn
Writers: John Francis Daley and Jonathan Goldstein
Cast: Bill Hader, Anna Faris, Will Forte, James Caan, Andy Samberg, and Terry Crews
This animated sequel returns to the food-filled town of Swallow Falls, where the enormous food that rained down has now evolved into animals. While the follow-up misses a bit of that Phil Lord and Chris Miller charm that made the original so delightfully unique, Lord and Miller remain producers and Cloudy with a Chance of Meatballs 2 still finds some really great visual jokes and gags to keep audiences entertained. Plus, the addition of Will Forte to the cast is inspired. – Adam Chitwood
Klaus
Director: Sergio Pablos
Writers: Sergio Pablos, Jim Mahoney, and Zach Lewis
Cast: Jason Schwartzman, J.K. Simmons, Rashida Jones, Will Sasso, Neda Margrethe Labba, Sergio Pablos, Norm Macdonald, and Joan Cusack
With Klaus, Netflix made a bona fide original Christmas classic without a single holiday switch (incredible, I know). Co-written and directed by Sergio Pablos, a Spanish animation master who began working for Disney in the Paris outpost before moving to America and contributing incredible performances and designs for characters as varied and unrelated as Frollo in The Hunchback of Notre Dame and Dr. Doppler in Treasure Planet before becoming a one-man idea farm, coming up with the initial concepts that gave way to Despicable Me and Smallfoot. With Klaus, which tells the origin story of Santa Claus (J.K. Simmons) via his relationship between a small-town mailman (Jason Schwartzman), Pablos cannily mixed traditional, 2D hand-drawn animation with cutting edge computer animation. The resulting film is unlike anything you've ever seen before; it's like watching a magic trick and being unsure how it was accomplished but being transfixed just the same. (It was nominated for the Best Animated Feature and had a good shot at winning, too.) And the story, with warring villagers and a commitment to giving a grounded, emotionally resonant portrayal of the beginnings of the legend (call it Santa Claus Begins) means that it never tips into gooey sentimentality. This is the rare Christmas classic that can be watched any time of year and will still fill you with that singular holiday magic. – Drew Taylor
ParaNorman
Directors: Sam Fell and Chris Butler
Writer: Chris Butler
Cast: Kodi Smit-McPhee, Casey Affleck, Anna Kendrick, John Goodman, Alex Borstein, Leslie Man, Jeff Garlin, Elaine Stritch, and Tucker Albrizzi
If you're looking for a fun family movie that's also genuinely spooky and has a surprising message, I urge you to check out ParaNorman. The stop-motion animated film hails from LAIKA, the same studio behind Coraline and Kubo and the Two Strings, and it's absolutely one of their best films. It revolves around a young kid named Norman who has the ability to see and speak with the dead, which comes in handy when his small Massachusetts town is overrun by terrifying ghosts. The story draws heavily from iconic 80s movies like The Goonies and E.T. but never feels derivative, and actually carries with it a surprising and emotional message about bullying and anger, and the complexity of emotions that kids can sometimes feel. It's also just a ton of fun. – Adam Chitwood
How to Train Your Dragon 2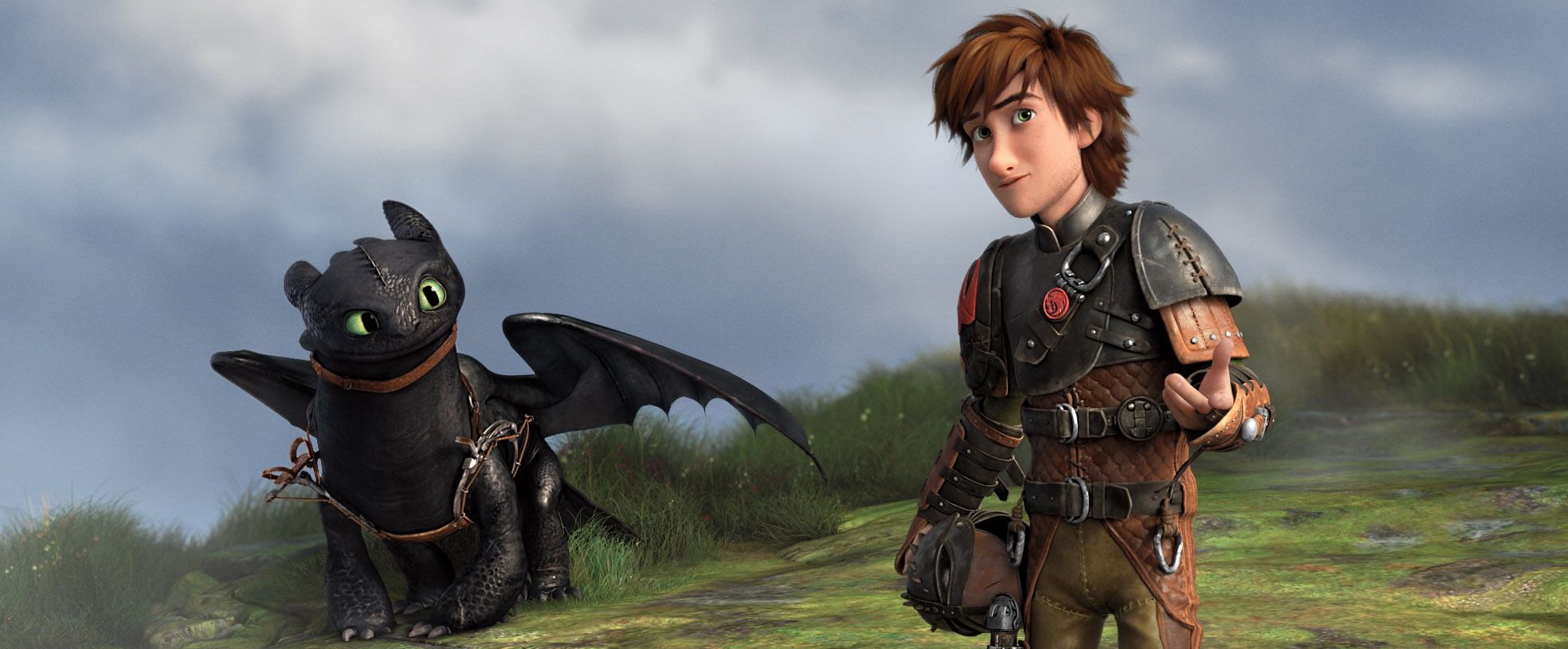 Director/Writer: Dean DeBlois
Cast: Jay Baruchel, Cate Blanchett, Gerard Butler, Craig Ferguson, America Ferrera, Jonah Hill, Christopher Mintz-Plasse, T.J. Miller, Kristen Wiig, Djimon Hounsou, and Kit Harington
The best film in the How to Train Your Dragon trilogy is also the most emotional one. The 2014 sequel How to Train Your Dragon 2 takes place five years after the events of the first film and finds Hiccup coming into contact with his long-lost mother (played by Cate Blanchett) and battling a madman (Djimon Hounsou) who wants to take over the world. Compassion and empathy are prominent themes in this "kids movie" that may or may not leave parents in puddles of tears by its end. It's a testament to Dean DeBlois's filmmaking skills (with an assist by cinematographer Roger Deakins) that this movie is as great as it is, and as a bonus you get a truly wonderful score by composer John Powell. – Adam Chitwood
Hugo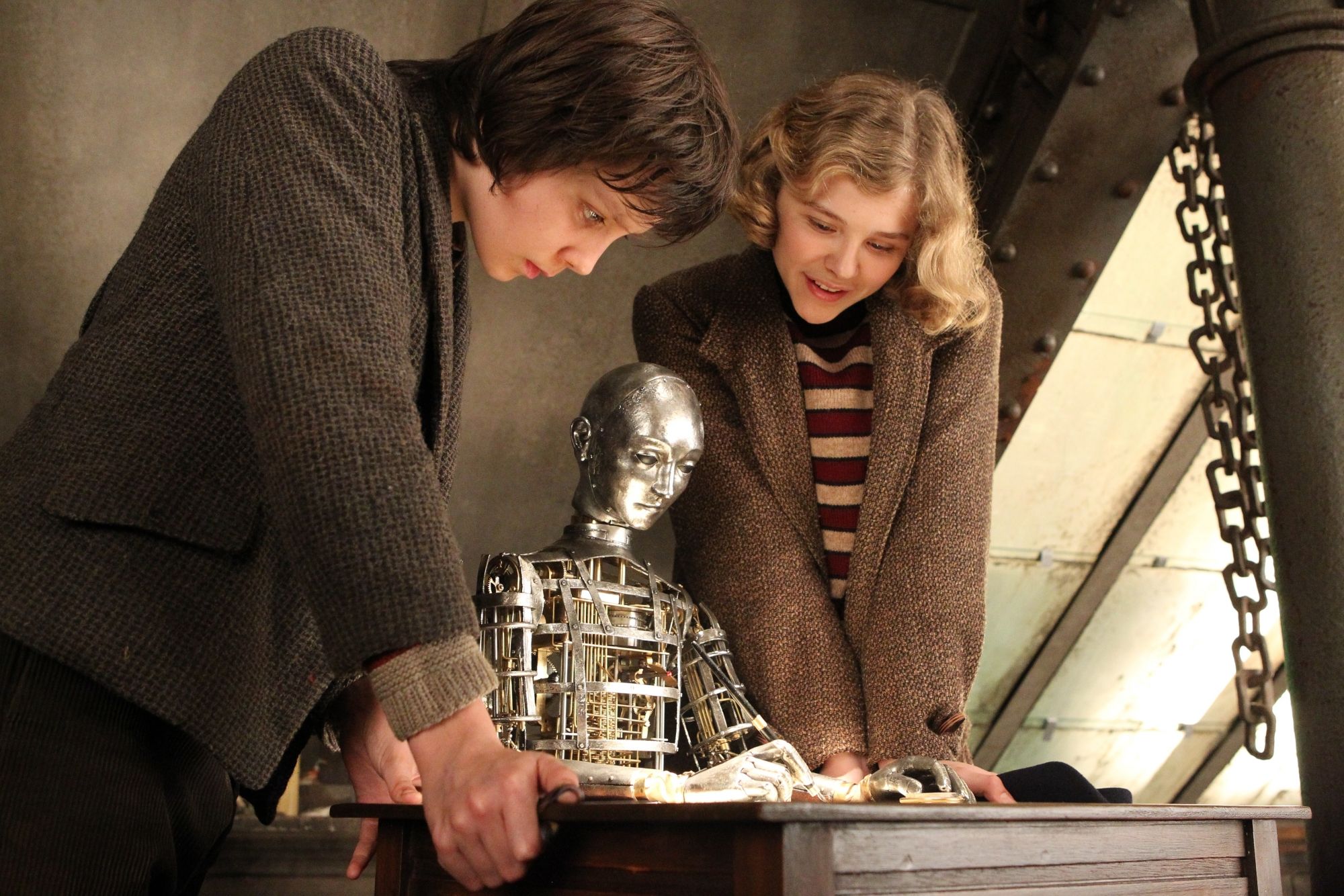 Director: Martin Scorsese
Writer: John Logan
Cast: Asa Butterfield, Chloe Grace Moretz, Ben Kingsley, Sacha Baron Cohen, Emily Mortimer, and Jude Law
The one and only family film from legendary director Martin Scorsese is also a celebration of cinema because of course it is. Based on the book The Invention of Hugo Cabret, the 2011 film Hugo follows a young orphaned boy who lives alone in a Paris railway station. He strikes up a friendship with a young girl (Chloe Grace Moretz), and the two set out on a journey that puts them into direct contact with the work and legacy of groundbreaking filmmaker Georges Méliès. The movie was shot in 3D as Scorsese makes unique use of the full frame, crafting a film that's adventurous and whimsical, but also very much a love letter to the art of moviemaking that underlines the value of film preservation. – Adam Chitwood
Jingle Jangle: A Christmas Journey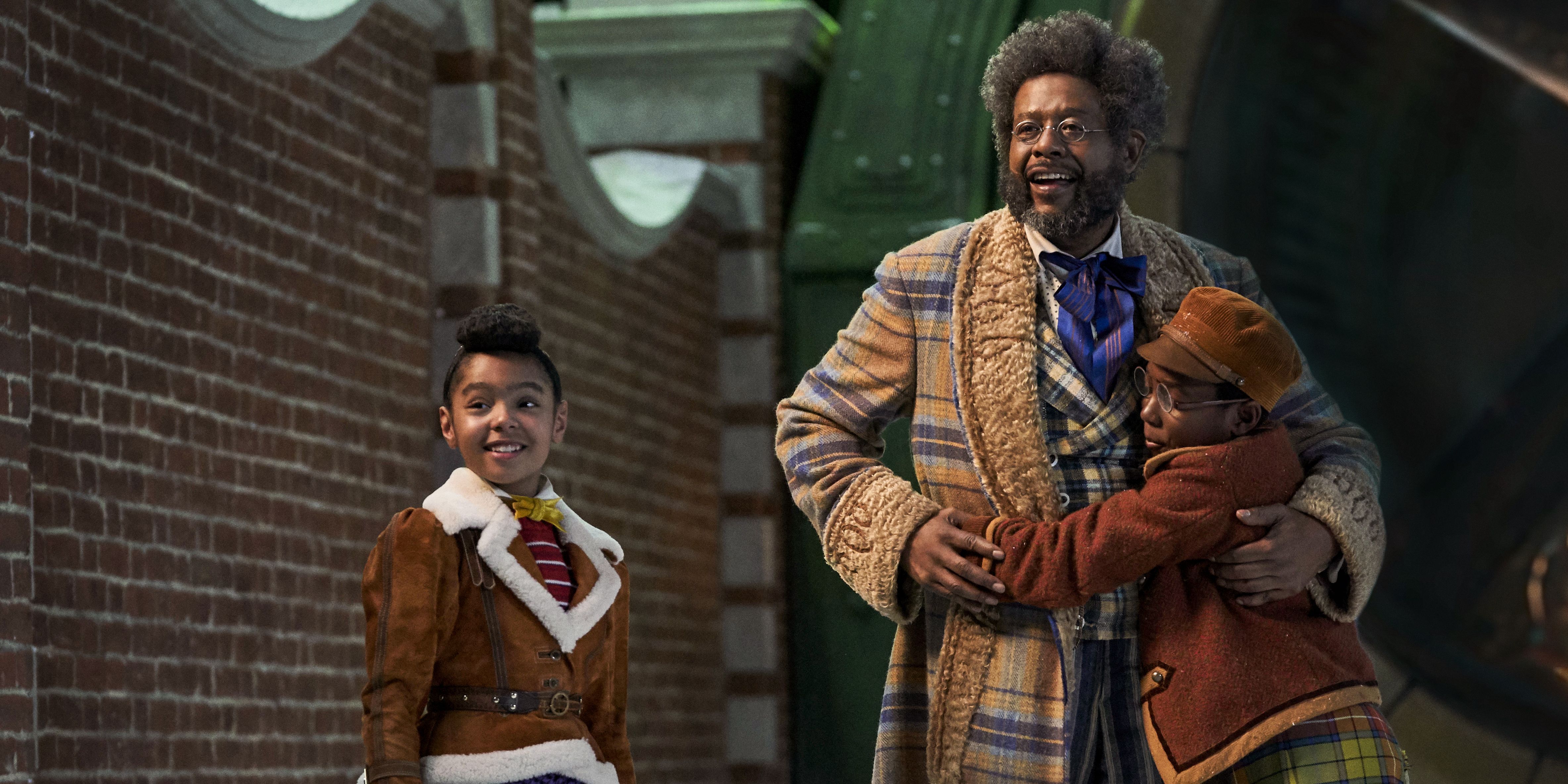 Director/Writer: David E. Talbert
Cast: Forest Whitaker, Keegan-Michael Key, Hugh Bonneville, Anika Noni Rose, Madalen Mills, Phylicia Rashad, Lisa Davina Phillip, Ricky Martin
I'm just gonna say it: Jingle Jangle: A Christmas Journey is a new holiday classic; an instant addition to the canon; the most recent family-friendly Christmas film to so thoroughly capture its audience's heart and soul since Elf. But unlike Elf, which is rife with childlike glee and slapstick set pieces, Jingle Jangle has another, more unorthodox fuel powering its steampunk-flavored sleigh: Melancholy. Jingle Jangle is a story of loss, of betrayal, of casting aside dreams, of keeping the house standing when the lights have long dimmed, and only eventually of regained hope. Yes there are catchy pop-MT bangers lensed and choreographed with panache, yes the production design is eye-poppingly gorgeous, and yes, every child performer in the film is unstoppingly adorable, optimistic, and joyful. But the center of Jingle Jangle, its silly name and all, is Forest Whitaker's courageous, unexpected, and frankly bizarre performance. As our central inventor whose greatest products were stolen by a vengeful Keegan Michael-Key (wonderful; he should play villains more often!), Whitaker is a shell of a man, a human reduced to a ghost. He plays this character with a sense of false strength that betrays his inner flimsiness, and gives us no lifeline to the potentially fantastical world around him. It's astonishing work, one that will no doubt affect kids in unexpected ways – and when he finally let's go of his traumas to sing, dance, and love his way to a brighter future again, the tears welling in my eyes throughout Jingle Jangle can hold no longer. Put in on the boards, it's a new Christmas classic. – Gregory Lawrence
KEEP READING: The 75 Best Netflix Shows and Original Series to Watch Right Now
source https://collider.com/best-family-kids-movies-on-netflix/
Incoming search terms: